We're Getting Mutants in the MCU - The Loop
Play Sound
Wimmen's Comix, later titled Wimmin's Comix, was an influential all-female underground comics anthology published by Last Gasp from 1972 to 1992, running 17 issues in total. The title proved a launching pad for many cartoonists' careers, and inspired other small-press and self-published titles.
Fantagraphics released a complete hardcover, two-volume boxset of the series in March 2016, including its predecessor It Ain't Me Babe.
History
[
]
Wimmen's Comix debuted a few years after the publication of the 1970 one-shot (also published by Last Gasp) It Ain't Me Babe, the first American comic book entirely produced by women, and put together by Trina Robbins, the most prolific and influential of the women cartoonists in the underground scene.
The first issue of Wimmen's Comix was edited by musician and artist Pat Moodian. Originally, the group behind Wimmen's Comix was not an official collective, but rather a few women artists who came together with a common interest to create at least one comic that women could get paid to be in, in a male-dominated comix culture. It was also notable for its revolutionary editorial approach. Terry Richards recalls:
"We decided that we would produce an on-going title of comics by women and that we would function as a collective, a term used rather loosely in those days to mean there would be no leader or editor, but instead a rotating editorship, with everyone contributing their energy to the paperwork and general supportiveness of the group."[1]
Each edition was edited by two different women, working together, with lots of feedback from the group, which met regularly in San Francisco, so no one person wielded too much control over the series. In contrast to the "old boys' club" of the male-dominated underground comix, anyone (as long as they were women) was invited to submit work to Wimmen's Comix. Though it covered a wide range of genre and subject matter, Wimmen's Comix focused more than other anthologies of the time on feminist concerns, homosexuality, sex and politics in general, and autobiographical comics.
In 1992, for issue #17, the title was changed to Wimmin's Comix following a discussion over the gender politics of words containing "man" or "men". This and other political conflicts within the collective, along with financial difficulties and the increasing availability of other venues for independent female cartoonists, led to the end of the series after that issue.
Many underground and alternative female cartoonists launched their careers in the pages of Wimmen's Comix. The series also led to further female-focused titles being launched, including Tits & Clits Comix, Dyke Shorts, Twisted Sisters, and Dynamite Damsels; several of Wimmen's Comix contributors subsequently created comics that appeared in these titles.
Issues
[
]
Issue 1
[
]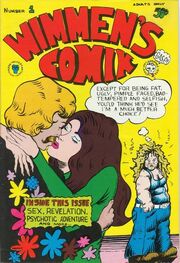 Editor: Pat Moodian
Cover by Pat Moodian
Issue 2
[
]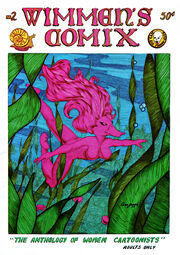 "The Anthology of Women Cartoonists"
Editor: Lee Marrs
Cover by Edna Jundis
Issue 3
[
]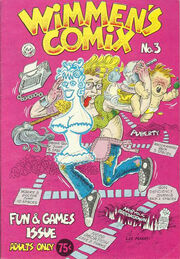 Fun & Games Issue
Editor: Sharon Rudahl
Cover by Lee Marrs
Issue 4
[
]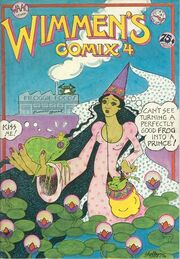 Editor: Shelby Sampson
Cover by Shelby Sampson
Issue 5
[
]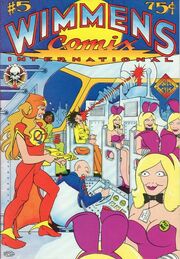 International
Editor: Trina Robbins and Terry Richards
Cover by Becky Wilson
Issue 6
[
]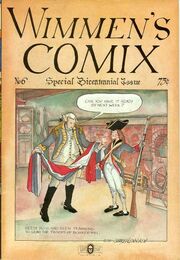 Special Bicentennial Issue
Edited by Becky Wilson and Barb Brown
Cover by Shary Flenniken
Issue 7
[
]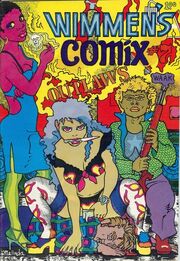 Outlaws
Edited by Melinda Gebbie and Dot Bucher
Cover by Melinda Gebbie
Issue 8
[
]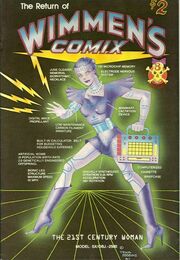 The 21st Century Woman
Edited by Kathryn LeMieux and Lee Binswanger
Cover by Trina Robbins
Issue 9
[
]
Women At Work
Editors: Caryn Leschen and Rosemary Dinegar
Cover Artist: Lee Marrs
Issue 10
[
]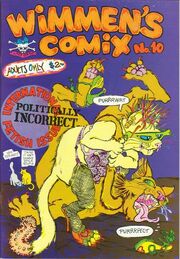 International Politically Incorrect Fetish Issue
Edited by Joyce Farmer
Cover by Joyce Farmer
Issue 11
[
]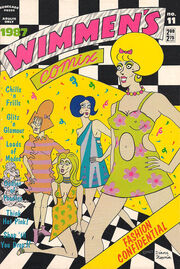 Fashion Confidential
Editors: Krystine Kryttre and Dori Seda
Cover by Diane Noomin
Issue 12
[
]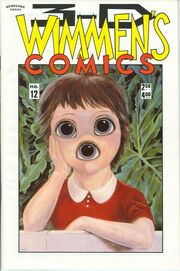 3-D
Edited by Angela Bocage and Rebecka Wright
Cover by Carol Lay
3-D Effects: Ray Zone
Issue 13
[
]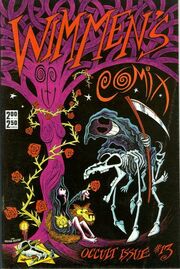 Occult Issue
Editors: Lee Binswanger and Caryn Leschen
Cover by Krystine Kryttre
Issue 14
[
]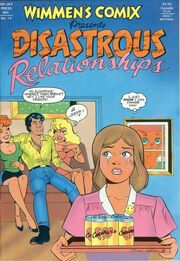 Disastrous Relationships
Edited by Trina Robbins and Deni Loubert
Cover by Trina Robbins

Issue 15
[
]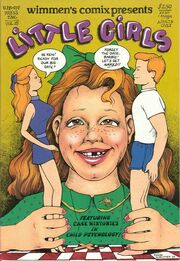 Little Girls
Editors: Phoebe Gloeckner and Angela Bocage
Cover by Phoebe Gloeckner
Issue 16
[
]
Men
Edited by Rebecka Wright
Cover by Carol Tyler
Issue 17
[
]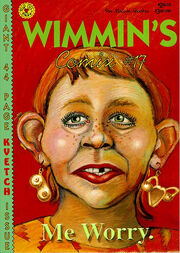 Giant 44-Page Kvetch Issue
Edited by Caryn Leschen
Cover by Caryn Leschen
Legacy
[
]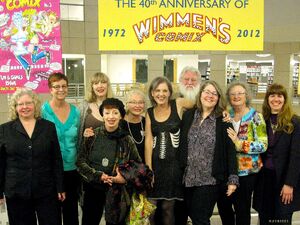 From November 10, 2012 to February 7, 2013, the San Francisco Public Library exhibited a retrospective of Wimmen's Comix work, curated by Terry Richards.[2]
Contributer Aline Kominsky-Crumb, whose first published comics work appeared in Wimmen's Comix #1, has mixed feelings about the title:
When I look back at those early Wimmen's Comix, they are just terrible. The work is so bad, it's so unprofessional. A lot of it's not funny; a lot of it is sort of humor impaired real militant feminist stuff that's silly. Not much of it holds up. The good part of it was that everybody got a chance; it was very democratic. The bad part was there was no quality control.[3]
The Complete Wimmen's Comix was published by Fantagraphics in 2016, edited by Trina Robbins. It also included It Ain't Me Babe and an introduction by Robbins. The collection won the 2017 Eisner Award for Best Archival Collection/Project—Comic Books.
External Links
[
]
References
[
]