Valerie Barclay (November 5, 1922 - February 26, 2010) also known as Violet Barclay, was an inker and penciller who worked for Timely (later Marvel) Comics during the Golden Age of Comics.
Life and Career
Edit
Born in Manhattan, Barclay attended the School of Industrial Arts, after which she went to work as a restaurant hostess for $18 a month to help support her mother and two younger brothers. Mike Sekowsky, who had gone to school with her, found her working at the restaurant in 1941, and "decided to save (her) from this life of degradation as a restaurant hostess" by finding her work as an inker at Timely Comics for $35 a month.
Barclay recalled later the relaxed atmosphere at Timely, when editor Lee would give the artists two hours in the morning to go through magazines and cut out pictures for their swipe files. In interviews, she tended to downgrade her skills because she used swipes (even though most artists did and do use swipes). Swipes or no, Barclay's drawing talent was considerable.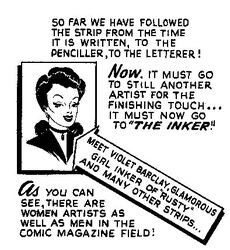 After leaving Timely in 1949, Barclay changed her name, which she had always considered too girly, to Valerie, and it was as Valerie Barclay (and sometimes Valerie Smith) that she drew love comics and later, commercial art. She then worked as a fashion illustrator for a small firm. Her career ended in the late 1980s when, ironically, she was fired for copying some Roy Lichtenstein art for an ad.[1] Barclay never stopped honing her talents, attending the School of Visual Arts and, for most of the rest of her life, the Art Students League. In later life, Ms Barclay suffered from osteoporosis, and broke many bones in 2001, when she tripped over an easel at the Art Students League. She loved the paintings of John Singer Sargent and, because she couldn't afford to buy one, she painted excellent copies of them for her own enjoyment, always carefully signing her own name to them so that she couldn't be accused of forgery.
Ms. Barclay died in New York Hospital in February 2010. She is buried in Pinelawn Memorial Park on Long Island, New York. She is survived by her longtime companion and love, Joe Murnane.[2]
Bibliography
Edit
Penciller
Edit
Complete Love Magazine (1954)
Glamorous Romance #72, 77

"Scandal's Threesome"
Jilted!

Miss America (1947) #30
My Own Romance (1949) #52
New Romances (1951) #14
Pictorial Romances (1950) #18
True Love Pictorial (1952) #7
Glamorous Romance #72
Jeanie Comics (1947) #13-15
My Own Romance (1949) #52
Nellie the Nurse #15
Venus (1948) #6
↑

Robbins, Trina. "That 'Glamorous Girl Inker'" Alter Ego Magazine, Vol. 3 no. 11, November 2001

View Valerie Barclay's memorial at Find-A-Grave.
Community content is available under
CC-BY-SA
unless otherwise noted.