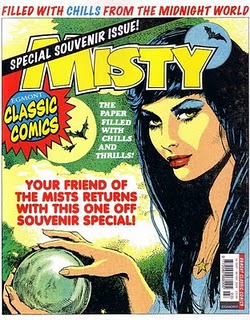 Shirley Bellwood (born May 20, 1931) is a British painter and illustrator who drew girls' comics beginning in the 1950s, working on titles like Valentine, Romeo, Mirabelle and Roxy. She drew covers for the IPC's girls' horror title Misty in the 1980s. She also painted covers for Misty annuals.
She has illustrated for many publishers, including the Folio Society, and later became well-known as a portrait painter, painting Speakers of the House of Commons Thomas George Thomas (Lord Tonypandy) and Bernard Weatherill, and having major exhibitions at the Contemporary Portrait Society and Royal Portrait Society. She also paints still life.
Community content is available under
CC-BY-SA
unless otherwise noted.