Editorial and political cartoons have existed for at least as long as the printing press, but reached an apex in the 19th century. It was especially difficult for women to break into editorial cartooning, since women were discouraged from discussing politics at all.
Early Editorial Cartoons
Edit
Suffrage Cartoons
Edit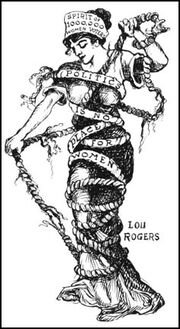 Perhaps unsurprisingly, one of the earliest political subject that women addressed en masse was the struggle for their own right to vote.
United States
Edit
Prominent American suffragist cartoonists included both mainstreme comics creators such as Nell Brinkley, Edwina Dumm, and Rose O'Neill, as well as dedicated activists such as Nina Allender, Blanche Ames, Cornelia Barns, Laura Foster, Fredrikke Palmer, Mary Wilson Preston, Ida Proper, Lou Rogers, Mary Sigsbee, Mary Taylor, and Alice Beach Winter
United Kingdom
Edit
The Artists' Suffrage League and Suffrage Atelier were two artists' organizations, consisting of men and women, that produced cartoons, posters and postcards in support of women's right to vote. The ASL employed mostly professional and fine artists, such as Mary Lowndes, Barbara Forbes, May H. Barker, Clara Billing, Dora Meeson Coates, Violet Garrard, Bertha Newcombe, C. Hedly Charlton, Emily Ford, Mary Sargant Florence, Joan Drew, and Emily J. Harding, while the Atelier encouraged more amateur artists, such as Catherine Courtauld, Louise R. Jacobs, though they also had fine artists such as Pamela Colman Smith (a Jamaican artist best known today for her design of the Rider-Waite Tarot deck). Other artists worked independently, such as Ernestine Mills
Other Political Movements
Edit
Grace Gifford was an Irish Republican cartoonist in the early 20th century,[1] as was Sadhbh Trinseach (born Francesca Chenevix Trench).
Modern Editorial Cartoons
Edit
North America
Edit
From the Great Depression through the Cold War, the only female editorial cartoonist in the United States was Anne Mergen.[2]
Etta Hulme was the first woman to win the National Cartoonist Society Award for Editorial Cartooning in 1981, and she won again in 1998. Signe Wilkinson was the first woman to win the Pulitzer Prize for Editorial Cartooning in 1992; Ann Telnaes followed in 2001. Lynn Johnston was a finalist for the 1994 Pulitzer for a sequence in her comic strip "For Better or For Worse" that sensitively depicted a youth's disclosure of his homosexuality and its effect on his family and friends.[3]
While most American female editorial cartoonists lean left, Lisa Benson is a Republican who started her career at California's Victor Valley Daily Press in 1992.
Other current notable female editorial cartoonists include Annette Balesteri, Susie Cagle, Chelsea Carr, Ann Cleaves, Anne Ganz, Jocelyne Leger, Stephanie McMillan, Kate Palmer, Mikhaela Reid, Jen Sorensen, Elena Steier, Sage Stossel, and Pam Winters.
In 1989, at the triennial Festival of Cartoon Art at Ohio State University, Professor Lucy Shelton Caswell curated an exhibit entitled "Women Practitioners of 'The Ungentlemanly Art'", featuring seven American women editorial cartoonists, both historical and contemporary.
One of the primary outlets for editorial cartoons and satire in France is the magazine Charlie Hebdo, which counts Catherine Meurisse, Camille Besse, Coco, and Catherine Beaunez among its regular contributors. Other female editorial cartoonists include, Chantal Montellier, Christine Lesueur[4] and Françoise Ménager[5].
Norwegian cartoonist Ellen Auensen began her career in 1968 for Morgenbladet newspaper and is one of three editorial cartoonists (and the only woman) to have been awarded the Narvesen Prize for excellence in journalism, which she received in 1973. Inger Giskeødegård began her career in 1985 and was the first woman to be awarded Editorial Cartoon of the Year from Norsk Redaktørforening (Association of Norwegian Editors) in 2001. Siri Dokken began her career in 1994 and won the Swedish EWK Prize in 2005 and the Editorial Cartoon of the Year award in 2007 and 2011.
Australia & New Zealand
Edit
Includes Judy Horacek[6] and Cathy Wilcox[7] in Australia. Sharon Murdoch, who is of both English and Ngāi Tahu Māori descent, is the first woman to regularly produce political cartoons for New Zealand mainstream media.
Middle East
Edit
Hana Hajjar is a Saudi political cartoonist for the English-language Arab News.[8] Another Saudi cartoonist, Manal Muhammed of Al-Jazirah newspaper, transistioned to cartooning after a career as a painter. Saudi female cartoonists tend to deal with women's issues such as employment disparities and gender roles, though Hajjar also comments on the Israeli-Palestinian conflict. An indeterminate amount of Saudi female cartoonists work under pseudonyms and hide their identity completely.[9]
In Egypt, Dooa Eladl is one of the best-known political cartoonists, published in the prominent newspaper Al-Masry Al-Youm. She has the distinction of being the first Egyptian cartoonist to face blasphemy charges for a cartoon featuring Adam and Eve.[10]
Palestinian cartoonist Majedah Shaheen was subject to harsh criticism and threats after drawing a cartoon critical of Hamas and its more extremist wing.[11]
Maya Kamath began her career as a cartoonist in 1985 with The Evening Herald, a publication of Deccan Herald group. In later years she worked for Indian newspapers like The Indian Express, The Asian Age and Times of India. After passing away in 2001, the Indian Institute of Cartoonists organized the Maya Kamath Memorial Awards Contest for Excellence in Cartooning for three best political cartoons in India and one for the best budding cartoonist of the year. [12][13]
South America
Edit
Comics Journalism
Edit
Though illustrated newspapers and news magazines were common in the late 19th and early 20th century, more recently, cartoonists have started presenting long-form journalism in comics form. Notable women involved include Susie Cagle, Molly Crabapple, Sarah Glidden, Lucy Bellwood, Sarah Mirk, and Jess Ruliffson. The first comics journalism tablet magazine, Symbolia, was founded by Erin Polgreen and Joyce Rice.
Cartoon Movement, a platform for editorial cartoonists and comics journalists launched in 2010, features cartoonists from all over the world, including Siham Zebiri from Algeria; Elena Ospina from Colombia; Doaa Eladl from Egypt; Anne Derenne from France; Alexandra Hamann from Germany; Lila Kalogeri and Sofia Mamalinga from Greece; Cecilia Alessandrini and Fabiola Martelli from Italy; Majda Shaheen from the Palestinian Territories; Menekse Cam from Turkey; Anne Holiday from the United Kingdom; and Susie Cagle, Sarah Glidden, Wendy MacNaughton, Stephanie McMillan, Juana Medina, Deb Milbrath, Zina Saunders, and Angela Watercutter from the United States;
In 2014, Fionnuala Doran, Isabel Greenberg, and Katherine Hearst, three graduates from the Royal College of Art launched Modern Times, a journalism zine "aim[ing] to be for graphic publications what This American Life is to radio- stories from everyday people, stories of everyday people told by today's most exciting artists, designers, writers and journalists...Think From Our Own Correspondent crashing full tilt into RAW." The first issue, about housing rights issues, features contributions from Alice Leora Briggs, Jess Ruliffson, Madeleine Swift, Kathryn Martin, Joana Pincha, Claire Price, and Nele Anders.[14]
External Links
Edit
References
Edit
Community content is available under
CC-BY-SA
unless otherwise noted.