Association Artémisia is a French organization, led by Chantal Montellier, that awards prizes every year to a graphic narrative by a woman. The prize is named after the Italian Renaissance artist Artemisia Gentileschi. It is awarded on the 9th of January, the birthday of existentialist philosopher and feminist pioneer Simone de Beauvoir.
Originally, it bestowed a singular award, le Prix Artémisia. However, over the years, they added first a special jury prize, before restructuring the award into multiple categories; the Grand Prix is the one consistent award, while the other categories have varied, including a special jury prize, a prix avenir or "future prize" (for a creator's first published work), as well as prizes for humor, memoirs, and historical fiction. In 2018, they introduced Special Mentions for art, non-fiction, and feminist work. In 2019, an award named after French environmentalist René Dumont was added, likely a reflection of the Association's relationship with Agro ParisTech, the life sciences university that has hosted the award ceremony since 2017.
Selections and Awards
Edit
Winners in bold, an asterisk denotes a work originally published in English, a dagger denotes those available in English translation, and a double dagger denotes works available to the North American market in French and/or its original language through Amazon Kindle/Comixology or other eBook vendors. All titles are listed in their original language unless an English translation has been published.
The jury for the first Prix Artémisia consisted of writer Marguerite Abouet, art historian Marie-Jo Bonnet, cartoonist Sylvie Fontaine, editor and critic Marie Moinard, cartoonist Chantal Montellier, essayist Annie Pilloy, and cartoonist Jeanne Puchol, as well as Anne Bleuzen, the co-Editor-in-Chief of Parutions.com, and Valérie de Saint-Do, the managing editor of cultural magazine Cassandre.
The 2008 jury returned to judge the 2009 selection.
Marguerite Abouet, Chantal Montellier, Annie Pilloy, and Valérie de Saint-Do returned to judge the 2010 selection and were joined by writer Yves Frémion, comics historian and critic Thierry Groensteen, psychologist Martine Huet, translator Lili Sztajn, art director Carole Schilling, and writer/journalist Gérard Streiff.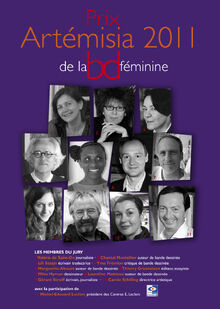 For 2011, most of the 2010 jury returned, except for Martine Huet and Anne Pilloy. They were replaced by artist Miles Hyman and 2010 laureate Laureline Mattiussi.
The 2011 jury returned to judge the 2012 selection.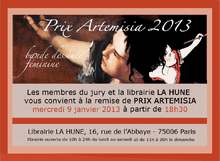 Yves Frémion, Thierry Groensteen, Laureline Mattiussi, Chantal Montellier, and Lili Sztajn returned to be part of the 2013 jury and were joined by comics librarian Sandra Mezache, Sorbonne history professor Pascal Ory, journalist Lucie Servin, and painter and illustrator
Anne Van der Linden
.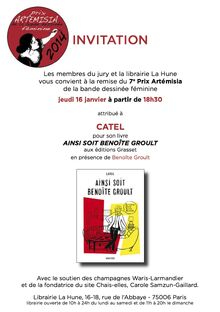 The 2013 jury returned to judge the 2014 selection.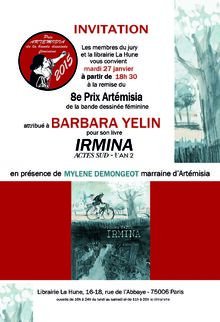 For 2015, most of the jury of the previous two years returned except for Thierry Groensteen and Sandra Mezache. Joining the jury was graphic designer Stéphane Bielikoff and 2014 laureate
Catel
.
Hors Sélection - An Homage to Jacqueline Duhême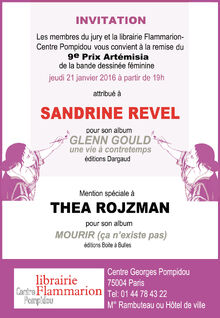 The 2016 jury consisted of writer Eva Almassy, film and comics theorist Gilles Ciment, journalist Odile Conseil, producer Céline du Chéné, comics historian Patrick Gaumer, feminist activist and union leader Sigrid Gérardin, cartoonist
Marion Laurent
, Chantal Montellier, poet Patrig Pennognon, visual artist Silvia Radelli, literary critic Donatella Saulnier, comics writer and journalist Christophe Vilain, and art historian Rachel Viné-Krupa. Gilles Ratier, secretary general of
l'Association des critiques de bandes dessinées
(ACBD) and Editor-in-Chief of
BDZoom
served as "Godfather".
Mention Spéciale du Jury/Special Jury Mention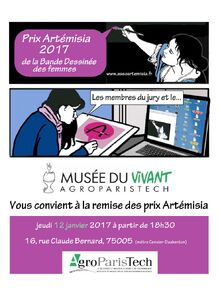 The 2016 jury returned to judge the 2017 selection.
Other works in selection: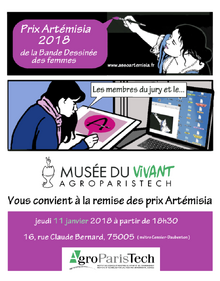 Eva Almassy, Gilles Ciment, Patrick Gaumer, Sigrid Gérardin, Marion Laurent, Chantal Montellier. Silvia Radelli, and Christophe Vilain returned to the 2018 jury, joined by cartoonist
Cécilia Capuana
, economist David Enu, art professor Vanina Géré, director and comics writer
Bérénice Motais de Narbonne
, and videographer Line Scheibling. Gilles Ratier returned as "Godfather", and visual artist Laurent Gervereau served as the Honorary President.
Other works in selection: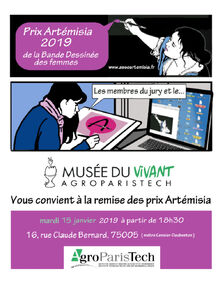 Other works in selection:
Pluri(elles): Les femmes s'illustrent Edit
For the Association's 10th anniversary, an exposition was held at the Galerie Art-Maniak in Paris, France, from June 9th to July 1st, 2017. It exhibited original art from artists whose works had been selected over the ten year history of the Prix Artémisia, including:
Céline Wagner (Grand Prix Artémisia 2017)
Claire Braud (Prix Artémisia 2012)
Cécilia Capuana (jury member)
Catel Muller (Prix Artémisia 2014)
Rachel Deville (Selection 2014 and 2017)
Sylvie Fontaine (Selection 2017)
Marion Laurent (Selection 2010 and 2016)
Mandragore (Selection 2017)
Laureline Mattiussi (Prix Artémisia 2010)
Fanny Michaëlis (Selection 2017)
Chantal Montellier (Co-founder)
Jeanne Puchol (Co-founder and Prix Artémisia 2013)
Silvia Radelli (jury member)
Théa Rojzman (Special Jury Prize 2016)
Perrine Rouillon (Selection 2017)
Much of the exhibited art has also been made available for purchase by the gallery.
External Links
Edit
Community content is available under
CC-BY-SA
unless otherwise noted.